Sarah Alessandro was the mother of John and Francesca Alessandro. She passed away following a long bout with cancer
Sarah Alessandro was a strong and vibrant woman who, despite her severe illness held the Alessandro family together. Tough and no-nonsense she was also wise and compassionate, prefering to deal with issues and people directly. Her tone was often very no-nonsense, but the depth of her love for her family was evident even as illness took her life from her.
Appearances
Edit
In the strictest sense, Sarah only appears in the stage play, Hence These Tears, although her influence is flet strongly thoughout much of Salvation. She is mentioned by Alexander Weir and John Alessandro on several occasions.
Hence These Tears
Edit
Sarah appears briefly during the first act of the play, although her illnes and death form the backbone of the story. When she is first seen, she is seriously i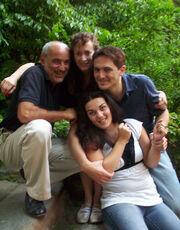 ll and near death. Despite this, her strength is clearly evident, as she is able to share a final moment of motherly advice with her estranged son. Later, she is seen in flashback as a vision of true elegance. She is shown to have a wry sense of humor, which can be seen from time to time in her children John and Francesca.
Salvation
Edit
A photograph of Sarah can be seen early in the episode Hinc Illae Lacrimae when Alexander is reminiscing about her. Curiously, the actress playing Sarah, also plays an unrelated character in the previous episode.