Morgan Ryan
is an actress, singer and songwriter who portrays
Adenine Perry
in the final episode of
Project Nephilim: Salvation
.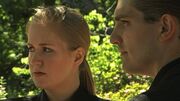 She wrote and performed two original pieces for the stage production Hence These Tears. Phone Lines, which served as the original theme of the show, and Hallelu.
Hallelu, can be heard on the radio when Robin starts his car at the end of the Pilot episode of Salvation.
Composer, Laurie Schillinger incorporated several small thematic motifs from both songs, into Alexander's theme.
Morgan auditioned for and was on the shortlist to play Alisson Daniels in the original production of Hence These Tears. Jennifer Reagan was ultimately cast as Alisson, but the producers wanted to work with her, so he role of Adenine was created specifically for her.
Ad blocker interference detected!
Wikia is a free-to-use site that makes money from advertising. We have a modified experience for viewers using ad blockers

Wikia is not accessible if you've made further modifications. Remove the custom ad blocker rule(s) and the page will load as expected.