Danielle Lucas (née Leeber)
is the Artistic Director of The Boston Actors Theater, an actress, director and producer who portrays
Mattie Howard
in Project Nephilim: Salvation. She was the Executive Producer for
Hence These Tears
as well as the Casting Director for much of
Salvation
.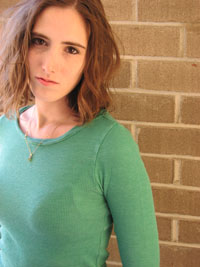 Danielle earned a bachelor's degree from Keene State College in theater/dance and studied Theater and Dance abroad at The University of Derby in England. She earned her Masters in Non-Profit Management with a cultural arts specialization from Northeastern University. In the summer of 2004 she created the Boston Actors Theater while teaching beginner's theater. The company was put on hold while she finished her third national tour with The Hampstead Stage Company. She also toured with The National Theater Company as Margot in Anne Frank. Although she is primarily a director and producer these days she still tries to perform from time to time. As a director she has received critical acclaim for her direction of the comedy Criminal Hearts, as well as being praised for her choice of pieces for the Summer Play Festival as both a director and artistic director.
She was cast as Mattie Howard by Executive Producer Vincent C. Morreale when an audition runner called in sick and she was needed to read opposite many of the people auditioning and did a phenomenal job.
During the production of Project Nephilim: Salvation she became engaged to David Lucas, the actor portraying Andrew Jordan. They were married in 2010.
Ad blocker interference detected!
Wikia is a free-to-use site that makes money from advertising. We have a modified experience for viewers using ad blockers

Wikia is not accessible if you've made further modifications. Remove the custom ad blocker rule(s) and the page will load as expected.