Christmas After the Zombocalypse is a short film Written and Directed by Julia Specht and is notable for being the first short film produced by Paracelsus Films not to take place within the Project Nephilim Universe. Additionally, it introduces Lara Jay and Dan Minkle as stunt coordinators.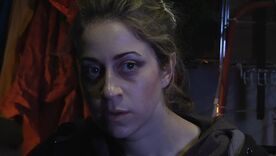 The Production Team is comprised of company regulars and veterans of Salvation. It's conception was to build upon the techniques seen in Salvation, with a focus on atmosphere, structure and action. It is also the first feature to make the switch to High Def.
Production Team
Edit
Executive Producer - Vincent C. Morreale
Producer - Julia Specht
Writer/Director - Julia Specht
Director of Photography - Paul Ezzy
Cinematographer - Christine Bana
Sound - Michael Simon
Choreography - Lara Jay

The film stars Jennifer Reagan and James Aitchison. Jennifer Reagan previously appeared in both Hence These Tears and Salvation as Alisson Daniels.